Since 1997 our Grandmaster School of Chess has introduced chess to thousands of children in the Greater Dublin area
---
LATEST NEWS
---
Bank in Nizhniy, built in 1913
Trip to Nizney
Last week a team from the Kilkenny Chess Club went to Russia, where we played a friendly match, visited the Central Chess Club and met Boris Spassky.
---
Kilkenny Chess Club Team comes to Ulm, Germany
Last weekend eight members of the Kilkenny Chess Club and some of their partners went to Ulm, Germany to play a friendly match against one of the local club. It was a fantastic trip, enjoyed by all. KKilkenny won the match 8.5-7.5, while IM Mark Heidenfeld also won a blitz tournament.
---
43rd Chess Olympiad in Batumi, Georgia
From the 23rd of September to the 6th of October I played for Ireland in the 43 Chess Olympiad in Batumi. For me the highlight of the event was the round 2 match Russia vs. Ireland. On board 1 I faced Sergey Karjakin. It was an honour to play against somebody of that calibre. The game was drawn after a tense fight in the Alekhine Defence.
---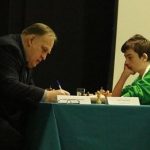 Gonzaga Classic 2017, Dublin, Ireland
Grandmaster Alexander Baburin plays Tom O'Gorman at the Annual Gonzaga Charity Chess Classic 2017. Congratulations to Second Year Student Tom O'Gorman who was named U18 Best Performer.
---
Blindfold simul on 16 boards in Dublin, Ireland
"Chess guru to take on 16 opponents,
wearing a blindfold."
by Jerome Reilly 13/07/2014
Read full article on Independent.ie
"Alex Baburin, The Sunday Independent chess columnist, will take on not 12 but 16 opponents simultaneously, a feat of extraordinary mental acuity. Like Zukertort, Alex will take the audacious challenge blindfolded to break a record that has stood for 135 years. To complete the challenge, Alex will have to memorise the constantly changing positions of 512 chess men on 16 boards with 924 squares. He will be playing against 16 accomplished chess players, who are themselves members of clubs around the country. The Dublin-based Russian native will have to win 12 of his 16 games to officially surpass Zukertort's achievement. His opponents selected from across the spectrum of Irish chess players have an average rating of 1,500 — the strength of an average club player in Ireland. Law firm Arthur Cox is sponsoring the event. "It is a tough challenge, but I have been doing a lot of practising. The aim is to boost interest in chess," Alex said."
---
CHESS GAMES from Live Chess Blitz