"Chess is the gymnasium of the mind." – Blaise Pascal
"Chess, like love, like music, has the power to make men happy." – Siegbert Tarrasch
Individual chess lessons for adults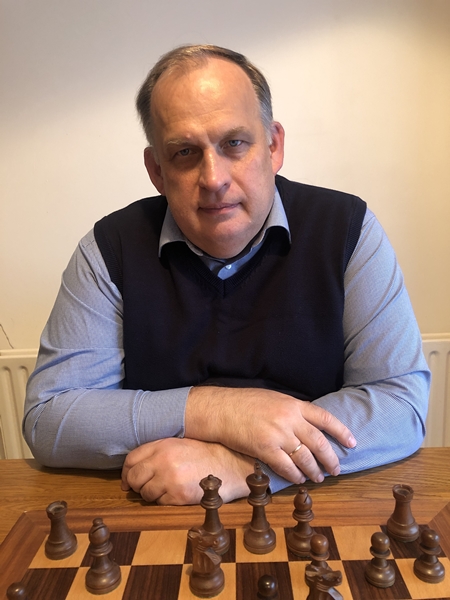 Grandmaster Alex Baburin
FIDE Senior Trainer
I have over 30 years of experience of working with chess players of all levels – from complete beginners to grandmasters. Lessons can be conducted over Zoom/Skype or in person (when feasible). The current rate for individual lessons is €65 an hour. If you would like to book a lesson, please contact me via email or phone (353-87-968-2378).
Group lessons for adult beginners
Contrary to a popular belief, it does not take long to learn the rules of chess and you don't have to be good at math to grasp its complexity. You can learn chess at any age. To do so, join our group lessons over Zoom and learn chess from the comfort of your own home. I run a number of such courses in 2021-2022 (both for complete beginners and intermediate players) and will run them again in the autumn of 2023. Details will be posted here in due time. During a course of six 45-minute sessions on Zoom, you will review the rules of chess and learn chess basics, including typical tactical motifs, simple endgames and common middlegame strategies. This will equip you for future chess battles with your peers, friends and relatives. Apart from that, you will learn about great champions of the game, both past and present and about the place of chess in culture throughout the world. Attendees of the course will receive supplement PDF materials for review. You will also learn about the best chess resources should you wish to study the game further. The course will run over 3 weeks, with lessons on Mondays and Thursdays. Zoom logins will be sent 1-2 days before the start of the course. Lessons will start at 20:00. The fee for the course is €50.
Below are testimonials from students attending this course in March 2021:
"Alex Baburin's introductory chess course covered everything that I needed to know to get started and to improve playing chess online. The notes were comprehensive, the exercises challenging and the classes rapidly progressed from the basics to reviewing the tactics and strategies employed in some famous games. As an added bonus we covered some of the history of this ancient game." – Colum Higgins
"This was a great course to get an introduction to some of the key principles in chess, delivered in an interesting, engaging way. Would recommend to anyone with an interest in playing chess." – Patrick Haughey
"I really enjoyed the chess course. While I think it may have been too advanced for me I was totally engrossed in the concept and the strategy and logical approaches and outmanoeuvring opponents I found it a valuable lesson for business and for life." – Ann Mulcrone
"I found the Beginner Chess Course run by Alex and his son, both fun and very informative. We delved into areas of strategy and famous games and I was very happy with the progress I made as a beginner after only a few weeks." – JP Sisk
"We really enjoyed this course – Alex made it both interesting and really fun to learn about the basics of chess and its history! The lessons were really engaging, and something we looked forward to during the week." – Lucy Bofin
"Alex's classes have been so beneficial for both parent and child, especially through lockdown. It gave us, as a family, a focus during the 'quiet times'. Alex gave plenty of advice and tips and best of all, great examples from the chess world champions." – Bláithin Rogers
Webinars for club players
Apart from my work with junior players, I regularly run webinars for players over 25 years old, rated between 1600 and 2000. Players outside of this rating band are welcome to join at their own discretion. Participants will receive webinar materials in PGN. I plan to run such webinars in July 2023. Details will be posted here soon.
| | | | |
| --- | --- | --- | --- |
| Topic | Date | Time | form |
| Topic | Date | Time | form |
| Topic | Date | Time | form |
| Topic | Date | Time | form |