"Chess is the gymnasium of the mind." – Blaise Pascal
"Chess, like love, like music, has the power to make men happy." – Siegbert Tarrasch
Individual chess lessons for adults
I have over 30 years of experience of working with chess players of all levels – from complete beginners to grandmasters. Lessons can be conducted over Zoom/Skype or in person (when feasible). The current rate for individual lessons is €65 an hour. If you would like to book a lesson, please contact me via email or phone (353-87-968-2378).
Webinars for club players
In June-July I will run two webinars for players over 25 years old, rated between 1600 and 2000. Players outside of this rating band are welcome to join at their own discretion. Participants will receive webinar materials in PGN. The first webinar is 'Calculate Like a Chess Pro!', while the second is 'Mastering Basic Rook Endgames'. Participants can choose between morning (10:00 to 12:00) and evening (17:00 to 19:00) sessions. These are Dublin times – for CET add 1 hour, for EST deduct 5 hours and for Pacific Daylight Time deduct 8 hours. Fee: €75, with an 'early bid' discount of €15. For more details, follow these links:
| | | | |
| --- | --- | --- | --- |
| 'Calculate Like a Chess Pro!' | 26-27 June | 10:00-12:00 | flyer |
| 'Calculate Like a Chess Pro!' | 26-27 June | 17:00-19:00 | flyer |
| 'Mastering Basic Rook Endgames' | 10-11 July | 10:00-12:00 | flyer |
| 'Mastering Basic Rook Endgames' | 10-11 July | 17:00-19:00 | flyer |
To sign up for these webinars, please use our Google form.
Group lessons for adult beginners
Contrary to a popular belief, it does not take long to learn the rules of chess and you don't have to be good at math to grasp its complexity. You can learn chess at any age. To do so, join our group lessons over Zoom and learn chess from the comfort of your own home. During a course of six 45-minute sessions on Zoom, you will review the rules of chess and learn chess basics, including typical tactical motifs, simple endgames and common middlegame strategies. This will equip you for future chess battles with your peers, friends and relatives. Apart from that, you will learn about great champions of the game, both past and present and about the place of chess in culture throughout the world. Attendees of the course will receive supplement PDF materials for review. You will also learn about the best chess resources should you wish to study the game further. The course will run over 3 weeks, with lessons on Mondays (15th, 22nd and 29th of March) and Thursdays (18th and 25th of March, 1st of April). Lessons will start at 20:00. The fee is €50. To learn more about this online course, refer to its flyer. To sign up, you need to fill out a simple Google form. Upon payment, you will receive a Zoom login for the course.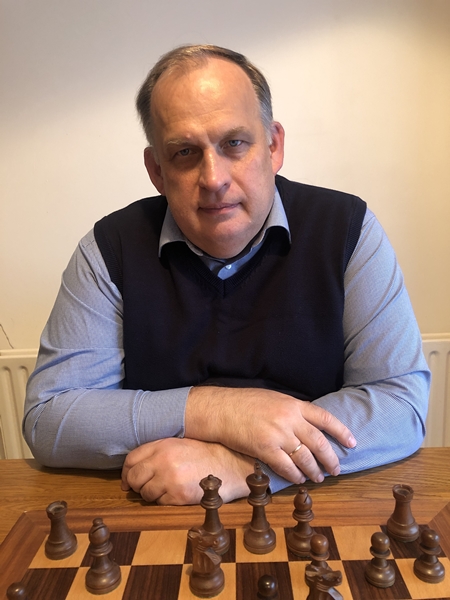 Grandmaster Alex Baburin
FIDE Senior Trainer