Our students
Here I would like to show some of our best students, whom I asked in December 2020 about their chess experiences, routines and aspirations.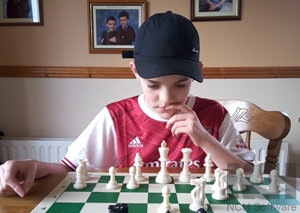 Christopher Woods started playing chess around November 2018 when he was 9 years old, taught by his mother. He loves to get up around 7am each morning and play for an hour before school. He loves the tactical side of the game and analysing games. He enjoys watching Hikaru Nakamura and Eric Rosen. He plays, studies and reads about chess all the time. He looks forward to his online lessons each week and enjoys the tournaments and winning! His dreams are to play and win for Ireland and to eventually become a GM!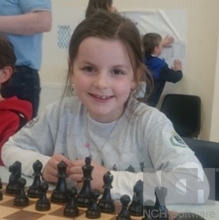 Polly McCormick learned how to play chess when she was four. She enjoyed the game at a local club (Curragh), where she seemed keen to show that girls can play too. She finds chess unique as a sport. She plays online, does tactics and attends chess camps. Polly played in the online Rapid Girls European (U/12) and World (U/10) Championships this year. Her favourite player is Magnus Carlsen, but as he mother is Polish, Polly is also interested in Polish players such as Najdorf and Duda.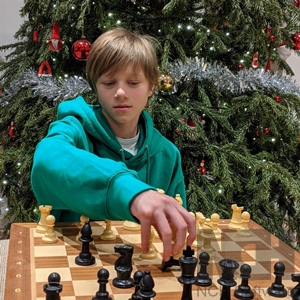 Karel Lievens learned the rules of chess from his dad when he was five years old, but he only really started playing in the school chess club when he was 8. He likes the competitive side of chess. Karel is a member of the St Benildus chess club and often takes part in our camps. When asked about his favourite chess player, Karel replied "Probably Magnus Carlsen, although there are many fabulous players around."
Vladimir Bessonov learnt to play chess when he was about 6 years old. It was his grandfather who taught him the game. Vladimir likes thinking about his own moves as well as trying to predict his opponent's. He really enjoys playing with his dad and his both grandfathers when he's got a chance! Vladimir's favourite chess player is Gary Kasparov. Vladimir's biggest wish is to play against him one day.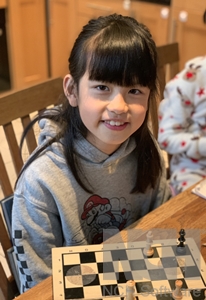 Mia Wang started playing chess last year at school. In the summer of 2020 she joined our online classes, making very impressive progress. She likes chess because it's a fun game that she can play against anyone. She normally plays a couple of online games daily on top of matches against her dad. Mia's favourite chess player is Magnus Carlsen, and she wants to become a WGM when she grows up.
Maxim Bustamante started playing chess at the age of 6, when he found a solution to the 8-queen puzzle. He became really fascinated with chess last summer, when he enrolled in our online camps and lessons. Maxim studies chess three days a week, with camps and tournaments during the weekends. His favourite chess players are Magnus Carlsen and Rashid Nezhmetdinov. Maxim wants to win tournaments and become a grandmaster.
George Stack learnt chess at 6, playing against his older brother. He likes both the strategic and tactical sides of chess, as well as attacking play. His favourite chess player is Hikaru Nakamura. George hopes to continue improving and to start playing in over-the-board tournaments next year, so he can get an official rating.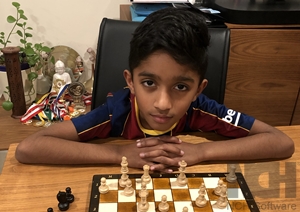 Pranav Karthikeyan joined the Blanchardstown chess club when he was 6 years old. He likes the great variety of positions, patterns and strategies, which chess offers. Since the lockdown in April 2020, he is actively participating in online chess, playing on chesskid and lichess. He also attends our weekly classes. His favourite players are Carlsen and Anand. Pranav wants to become a grandmaster.
Seven Yang started playing chess about 3 years ago and enjoys the game because it is fun to play. His favourite chess player is Hikaru Nakamura. Seven wants to become a grandmaster.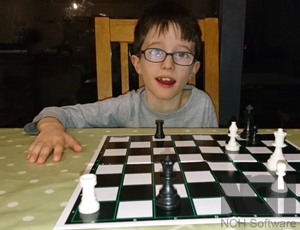 Cian Power learnt to play chess last year and really started enjoying it during lockdown. He likes online lessons and tournaments, as well as watching FunMasterMike on chesskid. Cian would like to become a chess master one day.
Yannick Woods was born in Berlin and learned chess there with his German grandfather when he was six. Yannick is interested in chess strategy and openings. He plays every day on ChessKid or Lichess and studies with my coach. The strategies, lots of possible openings. His favourite player is Magnus Carlsen. Yannick wants to play lots of tournaments and have fun.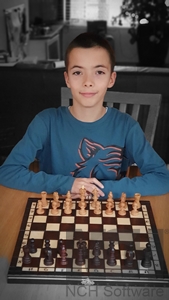 Dušan Waters started playing chess in his school chess club when he was 7. He likes the endless combinations and possibilities offered by chess. Dušan plays online, solves puzzles and learns from master games. His favourite chess players are Fabiano Caruana and Tom O'Gorman. His aim is to be competitive against the best and maybe someday become a Grandmaster.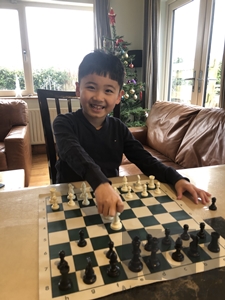 Colin Yang (7) started to play chess near the end of 2019. He like chess because he like winning! Colin plays a lot of 10+5 timed games and solving puzzles, all on lichess.org. His favourite chess player is GM Andrew Tang. Colin wants to be a Grandmaster!
Like his brother, Conor Yang (10) started to play chess near the end of 2019. He likes both the complexity of chess and its competitive side. He does puzzles daily on lichess.org. His favourite chess players are Magnus Carlsen, Alireza Firouzja, Sergei Zhigalko and Ding Liren. Conor wants to achieve a high rating in real-life!