Online Classes, FAQ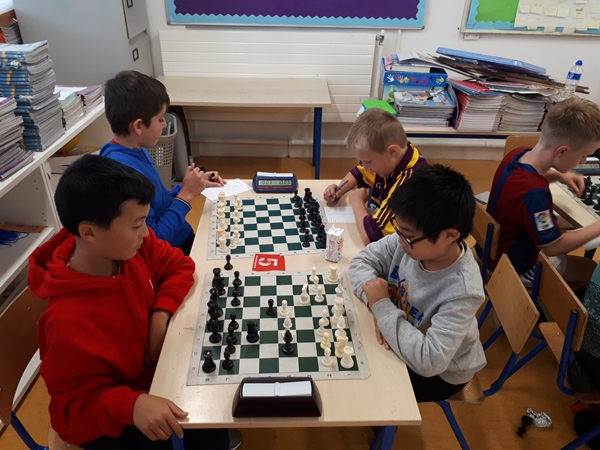 GM Alex Baburin, FIDE Senior Trainer
Having received in early September numerous inquiries regarding our Sept-Dec 2020 online chess programme, I decided to create the following FAQ section, which hopefully deals with most common questions.
Do all classes for beginners start at 15:15, for intermediate at 16:15 and for advanced at 17:15?
No, I deliberately rotated classes to give students/parents greater flexibility. You can see details in our Google form and in this table (CB stands for complete beginners):
| | | | |
| --- | --- | --- | --- |
| | 15:15 – 16:00 | 16:15 – 17:00 | 17:15 – 18:00 |
| Monday | CB + Beginners | Intermediate | Advanced |
| Tuesday | Intermediate | Advanced | CB + Beginners |
| Wednesday | CB + Beginners | Intermediate | Advanced |
| Thursday | Advanced | CB + Beginners | Intermediate |
How many students will you have in a class?
I plan to cap the number of students in any class at 30. Last summer I had that many in one of my camps and in one of my weekly classes. If there will be greater demand, we'll be putting up additional classes, with our most experienced instructors teaching them.
What group should my child join?
With complete beginners or beginners this is easy to decide, but it is harder to choose whether the child should go to an advanced group or stay in the intermediate one. If your child is one of best chess players in the school (overall, not just in their group), played in our weekend tournaments and finished high in the Minor Section (5 points out of 6 or more) or competed in the Challengers section, attended our camps, etc, then the advanced group might be appropriate.
How will classes be conducted?
I will be sharing my screen with a chess board on which I will be showing chess positions, puzzles and complete games. There will lots of questions for students, which they can answer in the chat and/or by raising a hand in Zoom.
How and when will the students play chess?
There will be no playing during classes, but we will organise regular online tournaments with prizes on www.chesskid.com throughout the term, so actually there will be more opportunities to play chess than ever before!
My child has never played chess online or used chesskid.com – will you explain how to use this platform?
Certainly – during the first 1-2 lessons I will explain how to use chesskid.com. We will also send relevant information in our newsletter.
Can my child move to a more appropriate group later?
Absolutely. Once students start playing in our online tournaments, their level of play and expertise will be easier to evaluate.
Can my child switch to a class of the same level on a different day?
Yes, we will do our best to accommodate all such requests.
If the online chess lessons will not work for my child, can I get a refund?
Yes, in this case we will give an appropriate refund for the remaining lessons.
My child does not have a gold membership at ChessKid.com – where should I get one?
You can buy this membership from me. The price is €15 for 4 months or €30 for a whole year. The same subscriptions at the CK website will cost you $25 and $49 respectively. I do not include CK gold membership in the total price as some students may have it already.
My child still has a valid CK gold membership from your summer lessons and camps, what should I do?
That subscription will expire soon (typically, within a month), so you should get an extension.
I have two children who might do the same class on the same day – will they need to log in from two separate devices?
That would be ideal, but sharing one device during the class is OK too. Naturally, they will need two devices when playing online at the same time.
Do I need to complete your Google form online or will an email suffice?
We would like parents of all students to complete that form as it helps us to store the relevant information in the best way.
I have completed the online Google form, what comes next?
You will be getting an email, outlining the total cost and payment options. Once you pay for the classes, you will receive a Zoom login (which will remain the same for the term) and a chesskid.com username and password.
Can a student join the programme after it has started?
Yes, that's possible – except for complete beginners as we will be covering rules of chess, etc during the first 2-3 lessons.
I might have a credit from the last chess term, can I use it when paying for Sept-Dec 2020?
Yes, you can inquire with me directly, if necessary – by emailing me at baburin@gmail.com