Chess Camps
This summer I will run two online camps – on 5-9 July and 23-27 August – on Zoom and www.chesskid.com. These camps are for children aged 6 to 14. Complete beginners are welcome – they will have a dedicated instructor, going over the rules and basics of chess with them. Students can choose between the morning (9:30 to 13:00) or the afternoon (15:30 to 18:00) session – or attend both. The afternoon session should work well for those attending a different sports camp in the morning. In each camp/session will cover original material, so there will be no duplication. As usual, we will have some guest trainers as well. Enrolment is in full swing – for more details or to sign up to either of these camps (or both), please use our Google form. If your child(ren) won't be able to attend the camp(s) for any reason, a full refund will be given.
I am also running two online mini-camps at the end of June. These are for children aged 6 to 12. One camp will be running on Mon/Wed and the other on Tue/Thu. Students will be meeting on Zoom and www.chesskid.com from 16:00 to 17:30 to study master games, play in tournaments and examine their own games. These camps are NOT suitable for complete beginners. To sign up to either of these camps (or both), please use our Google form.
Another project which I am starting is an online club for secondary school students. This club will start in mid-September 2021, but in the end of June I will run two online mini-camps for such students, including those who finished primary school this year. These camps will run between 10:00 and 11:30 from Monday to Thursday on 21-24 June and 28 June – 1 July. They are NOT suitable for complete beginners. Students will learn about chess tactics and strategy and analyze their games played in our tournaments, which we'll organize on lichess during the camp and outside of camp hours. To sign up to either of these camps (or both), please use our Google form.
Over 130 students took part in our Easter 2021 online chess camps. We had five chess instructors (Carl Jackson, Luke Scott, Ivan Baburin and John Keenan all assisted me) and three guest teachers (Alice O'Gorman, Henri Li and Tom O'Gorman, the current Irish Chess Champion) working at the camp.
Since the late 1990s, our chess school has been running regular chess camps during summer holidays, in October mid-term, after Christmas, in February mid-term and during Easter holidays. At these camps we have lectures, quizzes and tournaments, including blitz and bug-house chess competitions.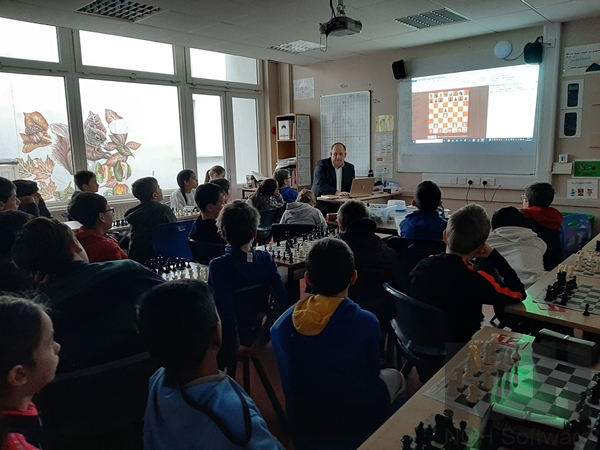 Since the start of the COVID-19 pandemic, we moved our camps online, running them in July, August and October 2020. Lessons are conducted on Zoom, while we use ChessKid arena for the camp tournaments. This is what Polly McCormick from Co Laois had to say about one of those camps:
"Alex's October 2020 online camp was great fun. I enjoyed getting out of bed each morning with something special to look forward to. Each day began with a chess lesson, this was followed by games between the children. Alex then looked at our games and explained how we could have played better. I think Alex is a good teacher and he has a lot of patience. He does his best to explain things in a way that all the children can understand.
There is often a funny story or an unplanned visit from Alex's pet cat 'Panda' or someone else's pet. I am not living in Dublin so I couldn't always go to Alex's camps, but now I am able to log in from my home. Chess books can be boring for children my age, as we want to have some fun when we are learning. Alex's Zoom sessions made me feel like we were all in the same room together, and they made me laugh during the Lockdown. I wish my friends at school could do one of Alex's camps and enter the fantastic world of chess."
With any inquiries, please contact me on 087-968-2378 or baburin@gmail.com
Grandmaster Alex Baburin, FIDE Senior Trainer, June 2021